8 kVA portable generator powered by Honda petrol engine. Featuring 6.5 litre fuel tank, giving 2.24 hours of operation at 80% load.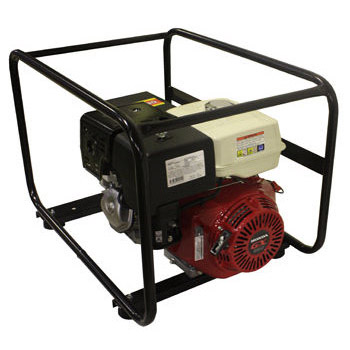 Gentech EP8000HSR Specifications
SPECIFICATIONS
Power Rating: 8 kVA
Model Rating 0.8pf @ 50Hz: 8 kVA
Alternator Rating: 9.5 kVA
Engine Model: Honda GX390
Phase: 1-Phase
Starting System: Recoil
Fuel Tank Capacity: 6.5 L
Noise Level @ 7m: 74 dBA
Outlets: Double GPO 15 Amp
Volts: 230 V
Approx. Fuel Consumption @ 80% Load: 2.90 L/hr
Operation Hours @ 80% Load: 2.24 hrs
Fuel Type: Petrol
Diam.: 810 x 545 x 545 mm (L x W x H)
Weight: 80 kg
A popular choice for farmers and builders, when an economical and hard working power source is needed to get the job done. Powerful enough for use in a wide range of applications.
OPTIONAL ACCESSORIES
ELB IP56 32 Amp: RCD Earth Leakage Protection, 32 Amp circuit breaker with 2x outlets.
Lifting Bar Kit
DGX11: 25 litre long range fuel tank with centre point lift
Wheel Kit options:
– Wheel Kit 203: 1 axel and 2x wheels per kit (two kits required) OR
– Wheelbarrow Kit: 2x handles and 2x levelling feet, required with 1x Wheel Kit 203