In store at AMAC Aldinga showroom. Come in for a demo today!
Key Features
23-25 horsepower standard
3-point linkage CAT 1
FEL, mower & backhoe options
18.5HP PTO
540Kg rear lift capacity
3 cylinder engine
2 range hydro transmission
ENGINE
3 cylinder liquid cooled engine
Solid metal hood with tilt design and open/close handle for easy access to serviceable areas
Radiator with removable mesh screen to shield radiator from debris and allow access for cleaning
OPERATOR'S PLATFORM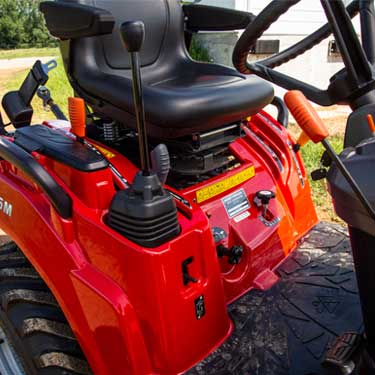 New ergonomic seat, designed to custom fit all profiles.
Uncluttered platform to ensure ample room for movement.
Hydraulic joystick located on right side of console, for easy access.
Safety lock-out lever prevents accidental joystick movement.
Cruise control engagement through push lever located on dashboard.
3 POINT LINKAGE
A large three point linkage capacity of 540kg.
Vesatility for a wide range of applications and attachments.
TYRE OPTIONS
The MF GC1700 gives operators a  choice of tyres to match their application.
Turf Tyres when minimal ground disturbance is required
Ag Tyres for tougher jobs that require traction
Industrial Tyres ideal for loader work without being overly aggresive on turf applications
DUAL HYDROSTATC PEDAL CONTROLS
Dual Control pedals allow easy directional control between forward and reverse for maximum comfort and efficiency.
CRUISE CONTROL
Cover large lawn areas with ease
Improves driver comfort
Can result in better fuel efficiency
MOWER DECK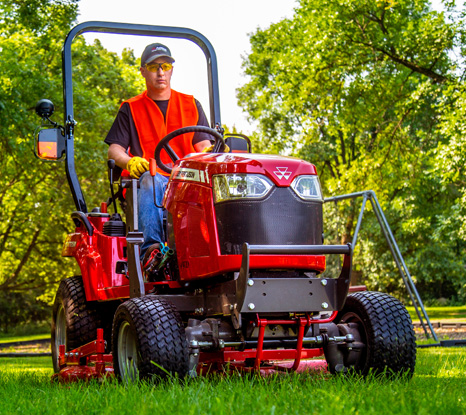 The versatile MF GC1700 series comes with the option of the SSM60 60″ side discharge mower deck ideal for residential or commercial use. The drive over deck means easy attchment and combines rugged construction with a high blade tip speed for a superior finish to your large lawn areas.
BACKHOE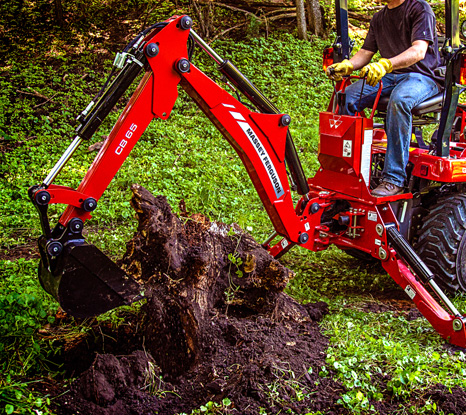 Easy linkage attachment combined with heavy duty construction, the backhoe features a 12″ bucket, recessed grease nipples and construction grade boom float design – providing faster speeds and cycle times and increased control, comfort and ease of use for operators.
LOADER
The quick attachment front loader is available in standard or 4 in 1 options.
---