Ultimate Utility Tractor
The ultimate utility tractor that delivers big engine muscle from three cylinder AGCO POWER, the MF4600 Series offer power shuttle performance and comfort taking you to a new level of productivity. Perfect for livestock farming, dairy, hay and general farm work.
90HP, 3.3L AGCO Engine
57kW PTO, 540rpm
12×12 Poer Shuttle Transmission
2.5 Tonne Lift Capacity
Cab Rollover Protection (ROPS)
Big engine muscle from just 3-cylinders
Torque is the key to an engine's ability to work. Torque turns the gears in the transmission. Torque digs your tyres into the ground. Torque keeps your mower cutting, even in heavy grass. And the advanced design of our new Tier 4i AGCO POWER 33 AWIC engine family generates torque levels that are the same or better than comparable 4-cylinder engines.
Performance that saves the day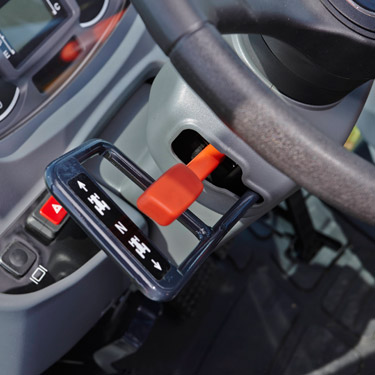 Ideal for loader work, the simple ability to switch between forward to reverse repeatedly, without clutching, exponentially diminishes your fatigue when expanded over a long workday on the farm. And our new MF4600 Series utility tractors brings you that feature on all three models.
Tackle a wide variety of applications with ease
No matter what the task or implement, the MF4600 Series has the high-performance hydraulics to handle it.A substantial hydraulic flow gives these machines the brawn to power front end loaders and other hydraulic implements with ease.
Flat open platform design
The platform on the open station design is set up high for great visibility in all directions and allows for a completely flat deck. The floor is rubber coated to reduce noise and vibration. A suspended vinyl seat with armrests and weather resistant controls keep you comfortable and productive. And our two-post, folding ROPS lets you easily work in tight spaces and height-restricted areas.
Controls where you want them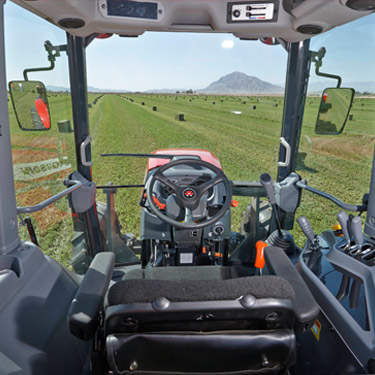 The large, 6-post, climate-controlled cab sits up high for outstanding visibility and features wide opening doors with footsteps on both sides for easy in and out access plus a suspended cloth seat with arm rests, tilt steering wheel, controls right where you want them and an analog/digital dash to monitor the tractor's operation