With EPS!
[nggallery id=40]
Specifications – RZR S 900 EPS
75HP PROSTAR® 900 ENGINE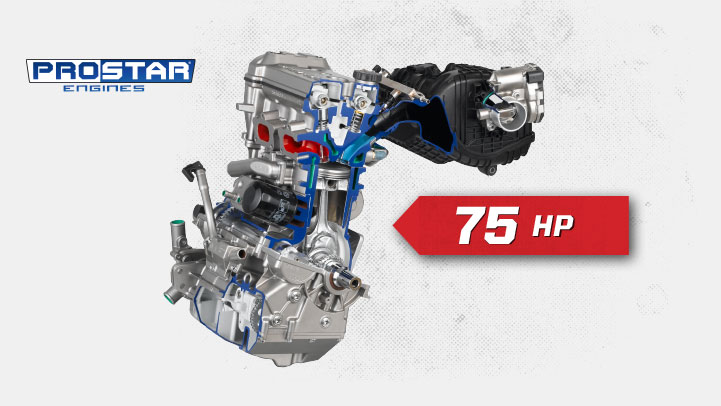 The 75 HP ProStar® 900 Engine is specifically tuned to provide maximum power without compromising drivability for RAZOR SHARP PERFORMANCE® with hallmark ProStar® features like dual overhead cams, 4 valves per cylinder and electronic fuel injection.
TRAIL PERFORMANCE HP TO WEIGHT
The modest weight and 75HP ProStar® 900 engine in the RZR® S 900 boasts loads power and acceleration thanks to an impressive power to weight ratio of 6.1 HP to every 45.4 kg of dry weight.
TRAIL FRIENDLY LOW GEAR
The RZR® S 900 high-performance transmission is specifically geared to optimize power and features a trail-friendly low gear.
SUPERIOR SUSPENSION TRAVEL FOR THE TRAIL
With 31.1 cm of front suspension travel and 33.53 cm in the rear, the RZR® S dual A-arm suspension not only gives you superior travel for a smooth ride, it's engineered into a 152 cm width, giving you nimble sport performance ready to tackle the trail.
NEW! EXCLUSIVE WALKER EVANS SHOCKS
New! Industry-exclusive Walker Evans needle shocks deliver an xtreme performance type ride and tuning capability in a RZR® S. Aside from the ingenious anti-bottom needle technology, the 5 cm diameter rear shocks feature tool-less 16-position compression dampening control, allowing you to tune for the perfect ride on the trail.
LONG 201 CM WHEELBASE, HIGH 32 CM GROUND CLEARANCE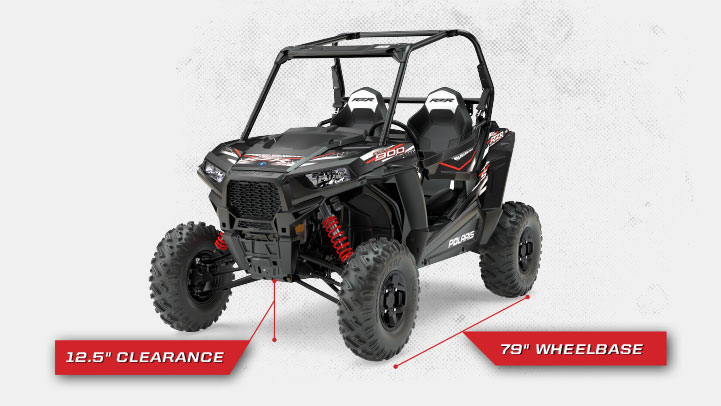 A long 201 cm wheelbase gives you a smooth ride and a full 32 cm ground clearance allows you to navigate over the rocky trails and everything they throw at you with confidence.
NEW! FRONT STABILIZER BAR
New! Front stabilizer bar dramatically decreases body roll and minimizes dipping around tight turns, adding to the RZR® S's legendary nimble performance on the trails.
HIGH PERFORMANCE TRUE ON-DEMAND ALL-WHEEL DRIVE
The High Performance True On-Demand All-Wheel Drive System features a close ratio final drive to keep the front wheels pulling stronger and longer maximizing power delivery to the ground, even on the loosest terrain. The system provides increased traction without sacrificing steering effort to provide unmatched point-and-shoot handling.
NARROW TURNING RADIUS & EPS
The RZR® S 900 features a narrow 16.4′ turning radius to navigate those tight trails, and also features the smoothest electronic power steering available, with Variable Assist for easier steering at lower speeds for all day comfort and performance.
68.6 CM GBC DIRT COMMANDER TIRES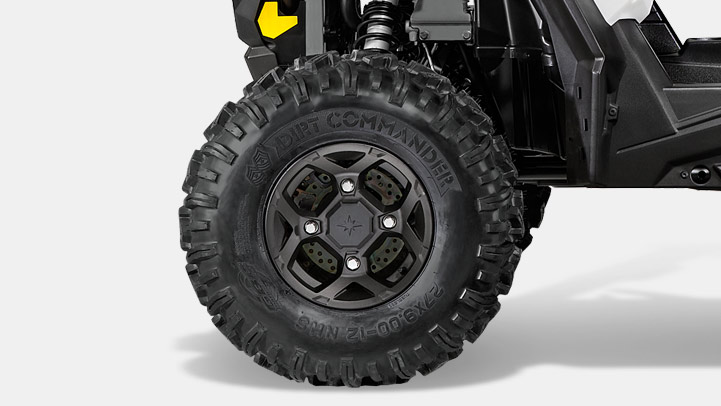 68.6 cm GBC Dirt Commander 8-ply tires offer better side bite, stiffer sidewalls, better tracking through corners and increased durability.
OPTIMIZED DRIVER POSITIONING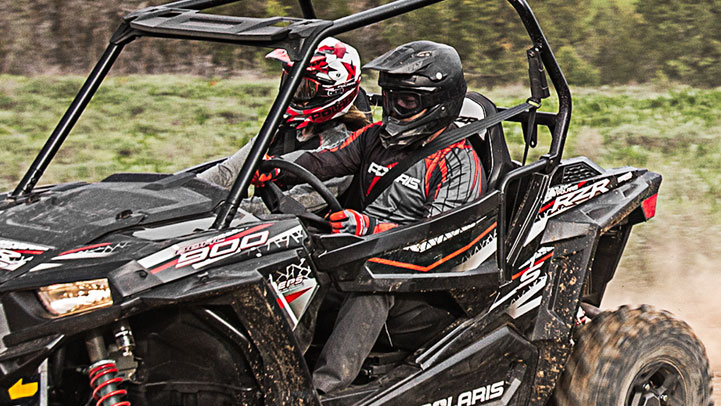 For better driver positioning, the RZR® S 900 features a new seat angle for a more comfortable driving experience. The angle situates the driver closer to the steering wheel bringing the elbows closer to the body for less arm fatigue and a more natural driving position.
COMFORTABLE AND CONVENIENT INTERIOR
The RZR® S 900 provides plenty of room to get in and get out and ample leg room for all day comfort when navigating the trail. The cab features bolstered seats with thin-film material to keep occupants drier, adjustable tilt steering, space-optimized 31 cm rests and factory-installed quarter doors that keep the occupants planted and secure. Additionally,removable floor drains allow you to washout debris and mud quickly and easily.
POLARIS ENGINEERED ACCESSORIES™
Polaris Engineered Accessories™ are designed with the vehicle ensuring the highest quality of design, integration and function. Polaris Engineered Accessories™ come with a one-year factory warranty and do not jeopardize your vehicle warranty, making them the preferred choice for customizing your RZR®.
1.6 MILLION WAYS TO CUSTOMIZE YOUR RZR®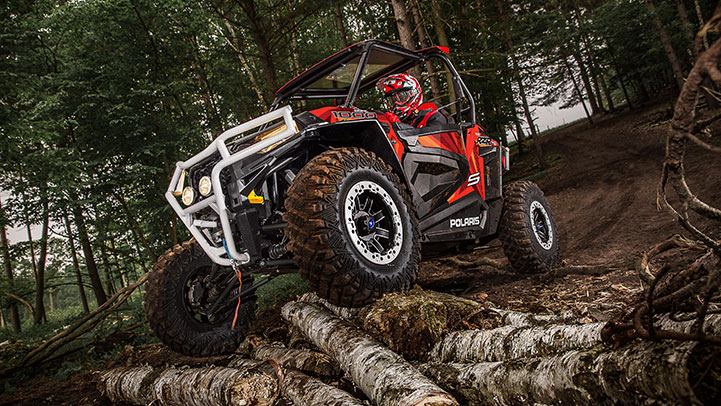 Check out the over 1.6 million ways to customize your RZR® with accessories to keep you and YOUR RZR® one of a kind.
Specifications
ENGINE & DRIVETRAIN
| | |
| --- | --- |
| Active Descent Control | Not Equipped |
| Cooling | Liquid |
| Drive System Type | High Performance True On-Demand AWD/2WD |
| Engine Braking System (EBS) | Standard |
| Fuel System | Electronic Fuel Injection |
| Horsepower (HP) | 75 hp |
| Transmission/Final Drive | Automatic PVT P/R/N/L/H |
| Cylinders-Displacement (cc) | 875cc |
| Engine Type | ProStar 900; 4-Stroke DOHC Twin Cylinder |
SUSPENSION
| | |
| --- | --- |
| Front Shocks | 2″ Walker Evans Needle |
| Front Suspension | Dual A-Arm with 12.25″ (31.1 cm) Travel |
| Rear Shocks | 2″ Walker Evans Needle |
| Rear Suspension | Dual A-Arm with Stabilizer Bar and 13.2″ (33.5 cm) Travel |
BRAKES
| | |
| --- | --- |
| Front/Rear Brakes | 4-Wheel Hydraulic Disc with Dual-Bore Front and Rear Calipers |
| Parking Brake | Park in Transmission |
TIRES / WHEELS
| | |
| --- | --- |
| Front Tires | 27 x 9-12, GBC Dirt Commander |
| Rear Tires | 27 x 11-12, GBC Dirt Commander |
| Wheels | Cast Aluminum |
DIMENSIONS
| | |
| --- | --- |
| Bed Box Dimensions (L x W x H) | 20.7 x 37 x 7.9″ (52.5 x 94 x 20 cm) |
| Front/Rear Rack or Box Capacity | N.A./300 lb (136.1 kg) |
| Fuel Capacity (Litres) | 9.5 gal (36.0 L) |
| Ground Clearance | 12.5″ (31.8 cm) |
| Hitch Towing Rating | 1,500 lb (680.4 kg) |
| Hitch Type | Standard/1.25″ Receiver |
| Overall Vehicle Size (L x W x H) | 106 x 60 x 71.5″ (269.2 x 152.4 x 181.6 cm) |
| Payload Capacity | 740 lb (335.6 kg) |
| Person Capacity | 2 |
| Wheelbase | 79″ (200.7 cm) |
| Estimated Dry Weight (pounds/kg) | 1,230 lbs (558 kg) |
FEATURES
| | |
| --- | --- |
| Cargo System | Lock & Ride |
| Color / Graphics | Black Pearl |
| Electronic Power Steering | Standard |
| Instrumentation | Digital Gauge, Speedometer, Odometer, Tripmeter, Tachometer, Coolant Temperature, Volt Meter, Hour Meter, Service Indicator, Clock, Gear Indicator, Fuel Gauge, Hi-Temp Light, Seatbelt Reminder Light, DC Outlet |
| Lighting | Halogen, 55W low/ 60W high & Red LED Tail/Brake Lights |
| Seat Type | Bolstered Bucket Seats |
| Ingress/Egress | Bowed 1/4 Doors |