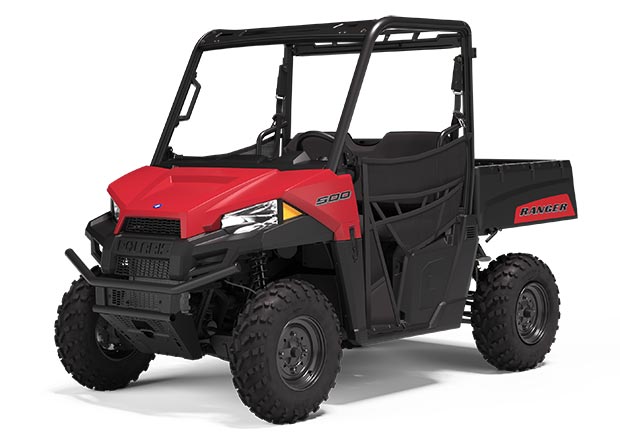 TAKE IT ANYWHERE
RANGER 500 73" wheel base and 58" width can be easily stored in the back of many trucks so you can take it out for the jobs you need.

PURPOSE-BUILT FOR YOUR JOBS
RANGER 500 is equipped with the payload capacity and box storage you require to get the necessary work done around the property.

Specifications- 
ENGINE AND DRIVE-TRAIN- 
Engine Type- 4-Stroke Single Cylinder. 
Cylinders-Displacement (CC)- 500 CC/ 32 HP. 
Fuel System- Electronic Fuel Injection. 
Transmission/ Final Drive- Automatic PVT H/L/N/R/P; Shaft. 
Drive System Type- On-Demand True AWD/2WD/Versatrac Turf Mode. 
Cooling- Liquid. 
SUSPENSION/BRAKES/WHEELS- 
Front Suspension- Macpherson Strut 22.9 cm Travel.
Rear Suspension- Dual A-Arm, IRS 25.4 cm Travel. 
Front/ Rear Brakes- 4-Wheel Hydraulic Disc. 
Parking Brake- Park-In Transmission. 
Front Tires- 25 X 8-12; 489.
Rear Tires- 25 X 10-12; 489. 
Wheels- Stamped Steel. 
DIMENSIONS- 
Bed Box Dimensions (L X W X H)- 81 X 107 X 29 CM. 
Front/ Rear Rack Or Box Capacity- N.A KG/226.8 KG.
Fuel Capacity- 34.1 L. 
Ground Clearance- 25.4 CM. 
Overall Vehicle Size (L X W X H)- 279 X 147 X 185 CM.
Wheelbase- 185.4 CM.
Estimated Dry Weight- 483 kg. 
FEATURES-
Cargo System- Lock & Ride. 
Hitch Towing Rating- 680.4 KG. 
Hitch/Type- Standard/ 5 cm Receiver. 
Instrumentation- SINGLE ANALOG DIAL WITH 5 CM LCD RIDER INFORMATION CENTER, SPEEDOMETER, TACHOMETER, ODOMETER, TRIP METER, CLOCK, HOUR METER, GEAR INDICATOR, FUEL GAUGE, COOLANT TEMPERATURE, VOLT METER, SERVICE INDICATOR AND CODES, SEAT BELT REMINDER LIGHT, DC OUTLET.  
Variants- Off-Road. 
KEY FEATURES
147 cm Width and Excellent Utility Value
Smooth and Reliable 32 HP ProStar® EFI Engine Features Best In Class Torque                               
Plush Suspension Travel and Refined Cab Comfort for 2 Creates an Excellent Ride
HARDEST WORKING FEATURES
Reliable ProStar® Power

RELIABLE PROSTAR® POWER

The all-new 500 cc engine is the third generation of strong and efficient ProStar® engines that have powered hundreds of thousands of Polaris vehicles. This experience and engineering results in an optimal balance of low end torque and high horsepower to provide smooth, reliable power to help you get the job done.

CLASS-LEADING TOWING AND PAYLOAD
With full 680.4 kg towing and standard 5 cm receiver, the RANGER 500 allows you to tackle the toughest jobs with confidence. Additionally, a 453.6 kg payload capacity is highlighted by a rear box with gas-assist dumping operation that can… Read More

ON-DEMAND TRUE ALL-WHEEL DRIVE

With the Polaris true AWD advantage, all four wheels engage automatically when your vehicle needs more forward traction and reverts back to 2WD when it doesn't. When in 2WD, NEW for this year the VersaTrac Turf Mode switch… Read More

CLASS-LEADING ENGINE PERFORMANCE

RANGER 500 produces class leading 32 HP to make quick work of everyday tasks. Electronic Fuel Injection allows for dependable cold-weather starting plus superior fuel economy.
SMOOTHEST RIDING FEATURES

ALL-DAY RIDING COMFORT

We designed RANGER 500 with an ideal seat height combined with wide 31 cm clearance for easy entry and exit. Plus, experience updated bench seats engineered for all-day riding comfort and standard tilt steering wheel adjustment!

SMOOTH RIDING SUSPENSION

To ensure a smooth ride, RANGER 500 features a full 22.9 cm of suspension travel up front and 25.4 cm of Independent Rear Suspension travel. This is 25% more than the closest competitor in the class. Additionally, all 4 corners can be adjusted to handle increased loads or plowing.

SMOOTH AUTOMATIC TRANSMISSION
The Polaris Variable Transmission (PVT) delivers superior performance, ease of use and maximum drivability in all conditions. It requires no shifting or user input to deliver smooth power, just select high or low range and you are on your way to… Read More

NIMBLE HANDLING

For nimble handling and a tight turning radius, RANGER 500 features an ideal 185 cm wheelbase paired with standard Versa-Trac Turf Mode and a full 25.4 cm of ground clearance. Additionally, a 147.3 cm width allows RANGER 500 to fit in the bed of most full-size pickups.

DESIGNED FOR EASY MAINTENANCE
RANGER is engineered to make maintenance quick and straightforward in your garage with easy to access service points for the oil filter, dipstick & drain plug. The Polaris Engineered™ PS-4 Extreme Duty and PS-4 Oil Change… Read More
ULTIMATE CUSTOMIZATION

FULL LINE OF POLARIS ENGINEERED ACCESSORIES
Make your RANGER even better with Polaris Engineered Accessories™. With more than 350 accessories available and Polaris-exclusive technology like Lock & Ride®, you can feel confident that Polaris Engineered Accessories™… Read More

GET MORE DONE
Stay one step ahead of changing seasons for years to come. Only Polaris RANGER® has the power, comfort, and legendary RANGER® versatility to haul more, tow more and do more for your property. With the new Polaris Engineered Accessories you CAN GET MORE DONE from the everyday chores to the big… Read More

EVERY ADVANTAGE MATTERS
Take your hunt further by outfitting your RANGER® with the right gear to get you to the hidden potholes, the lushest fields and the wildest terrain. Keep your gear organized & guns dry with Polaris Engineered Accessories™. Bring your companion and stalk any prey safely – only with the Lock & Ride® Dog Kennel.

TAKE CHARGE OF YOUR PROPERTY
Perfect for your garden or food plot — sprayers and more Lock & Ride® on-demand solutions for your work.
CALL NOW: 85577041