Single Seat Freedom. Pure Adventure!
When you're the center of your own experience you need to be comfortable. Comfort improvements across the line have made each MY17 ACE the most comfortable ride yet. With 10% more leg room, 13% easier entry/exit, over a 3.8 L of cockpit storage and all new digital instrumentation, ACE has you covered.
RELIABLE & POWERFUL 32 HP 500CC EFI PROSTAR® ENGINE
TAKE CONTROL OF YOUR ADVENTURE
With 32 Horsepower and Electronic Fuel Injection (EFI) the ACE 500 starts flawlessly and runs smoothly in varied temperature and altitude. The engine features fuel efficient, vibration free power with internal counter balance shaft, overhead cam and electronic fuel injection to precisely deliver the fuel charge for instant, predictable throttle response.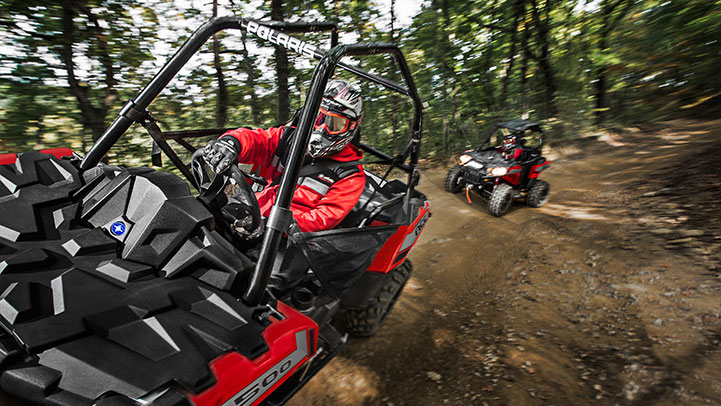 Single Seat Freedom. Absolute Adventure. That's what ACE® is all about. The single seat puts you directly in the center of the trail.Take control of your own experience and take control of your adventure with the ACE® 500.
TRUE ON-DEMAND ALL WHEEL DRIVE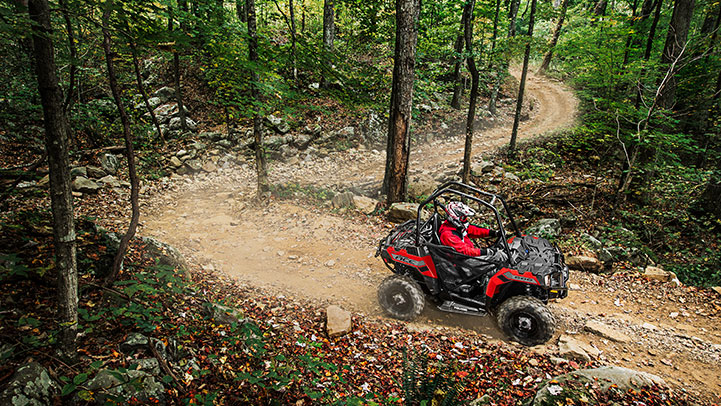 The Polaris True On-Demand AWD engages all four tires when the rear wheels slip and you need more forward traction. Reverts back to 2WD when you don't. Its simple and doesn't require pushing any extra buttons or pulling levers.
HIGH CAPACITY, CONVENIENT STORAGE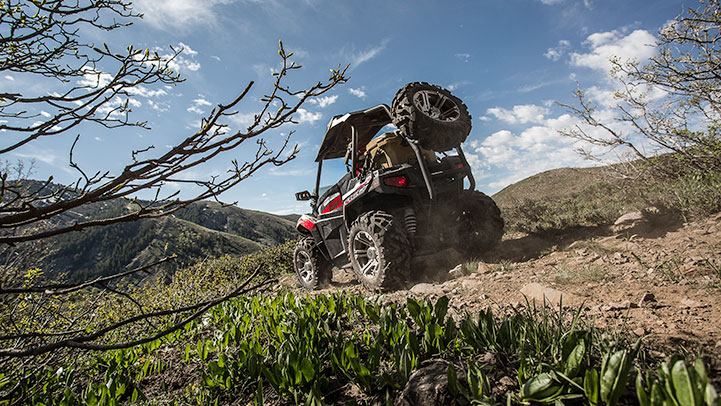 Polaris off-road vehicles have built an unprecedented reputation for work and the storage capability of ACE® is no different. With an integrated front storage compartment of nearly 11.4 liters, dual dash storage trays and high-capacity cargo box, ACE® can carry up to 163.3 kg of gear for any off-road adventure.
LOCK & RIDE® STORAGE SOLUTIONS
Customize your ACE® to your specific needs with Polaris Engineered Accessories™. The complete line of storage options gives you quick access to gear and ample storage space for your next adventure. Individual cab components offer enhanced comfort and protection from the elements
TITAN OF THE TRAIL
Ride with confidence and be prepared for your day off-road. Drop in a Lock & Ride® rear cargo box to haul whatever gear you'll need, and hook up a powerful winch to remove any obstacles along the way.
FULL TREAD. ANY TERRAIN.
As an industry leader in premium off-road accessories for more than a decade, Pro Armor® delivers purpose-built tires with superior durability and ultimate performance for the environment you ride. Not only that, but they're developed and tested wth Polaris Engineers—ensuring the perfect fit and optimal performance kilometer after mile.
KEEP IT ICE COLD
Polaris Northstar® coolers survive just about anything – from extreme heat to a full-on bear attack. Ice will stay cold for hours on end, and anything inside will stay locked up tight.
CALL NOW: 8557 7041